In preparation for opening of Dialogue Museum in 2020, Dialogue in Silence is holding the exhibition again this summer.
ABOUT
What is Dialogue in Silence?
DIALOGUE
IN SILENCE
Go beyond language and set yourself free!
Dialogue in Silence is a form of entertainment in which participants enjoy dialogues in total silence while overcoming language and cultural barriers.
Hearing-impaired guides, who are experts in non-verbal communication, lead you through the exhibition. Participants wear noise-cancelling headsets and enter a world of silence to discover the powers of concentration, observation, expression, and also feel a sense of liberation.
Participants learn how to communicate with each other not using sound or voice but by using body language and other means. Regardless of your native language, you can communicate with others more deeply than you can imagine.
Dialogue in Silence was held for the first time in Germany in 1998 and later in France, Israel, Mexico, Turkey, and China. More than one million people in the world have experienced Dialogue in Silence so far.
In Japan, it was held in 2017 for the first time, since then, about 10000 visitors experienced the exhibition.
10days exhibition will have a silent impact on Japan.
Andreas Heinecke speaks about Dialogue in Silence
Andreas Heinecke(The founder of Dialogue Social Enterprise)
General producers
Kiyoe Shimura

Birth therapist
Executive Director, Dialogue Japan Society

Shinsuke Shimura

CEO, Dialog in the Dark, Japan
TICKET
Bookings and event details
Dates
August 9th (Fri.)- August18 (Sun),2019
Venue
LUMINE 0, NEWoManShinjuku 5th floor, 5-24-55, Sendagaya, Shibuya-ku, Tokyo
Time
11 a.m. to 7:20 p.m. (start time), 18 time slots per day (90 minutes each tour)
*For details on the time slots, please check the booking page as the schedule varies from day to day.
Fees
Adult 4,500 yen, University student 3,000 yen, Elementary/Junior high/High school student 2,000 yen
For inquiries, please contact::080-4160-3103(10:00〜19:00/From Monday to Friday)
*Prior booking is required. Please click the button below to make a reservation. *No discounts for people with disabilities
【Before you visit】
The tour is approximately 90 minutes long. Once your reserved tour starts, you are not allowed to enter the exhibition area. There are some things you'll need to do before you go in, so please arrive and check in 15 minutes before your scheduled session.
For insurance and security reasons, you are requested to bring your ID card (an official document with your name on it) with you.
If you want to get a student discount, please bring your student ID card or other proof of enrollment with you.
You are not allowed to bring your valuables, mobile phones and other personal belongings into the exhibition area. Please place it in the lockers available at the venue.
Dialogue in Silence is for people elementary school students and above.
(If you fall in any of the following categories, please let us know by writing a comment in the "Notes" in the booking page so we can offer special arrangements for you.)
People with visual impairments (including low vision)
People accompanied by a guide dog, a hearing dog, or a service dog.
Dogs are not permitted within the exhibition with you.
Wheelchair users.
People with hearing-impaired
ACCESS

Venue: LUMINE 0 NEWoManShinjuku 5F,
5-24-55, Sendagaya Shibuya-ku, Tokyo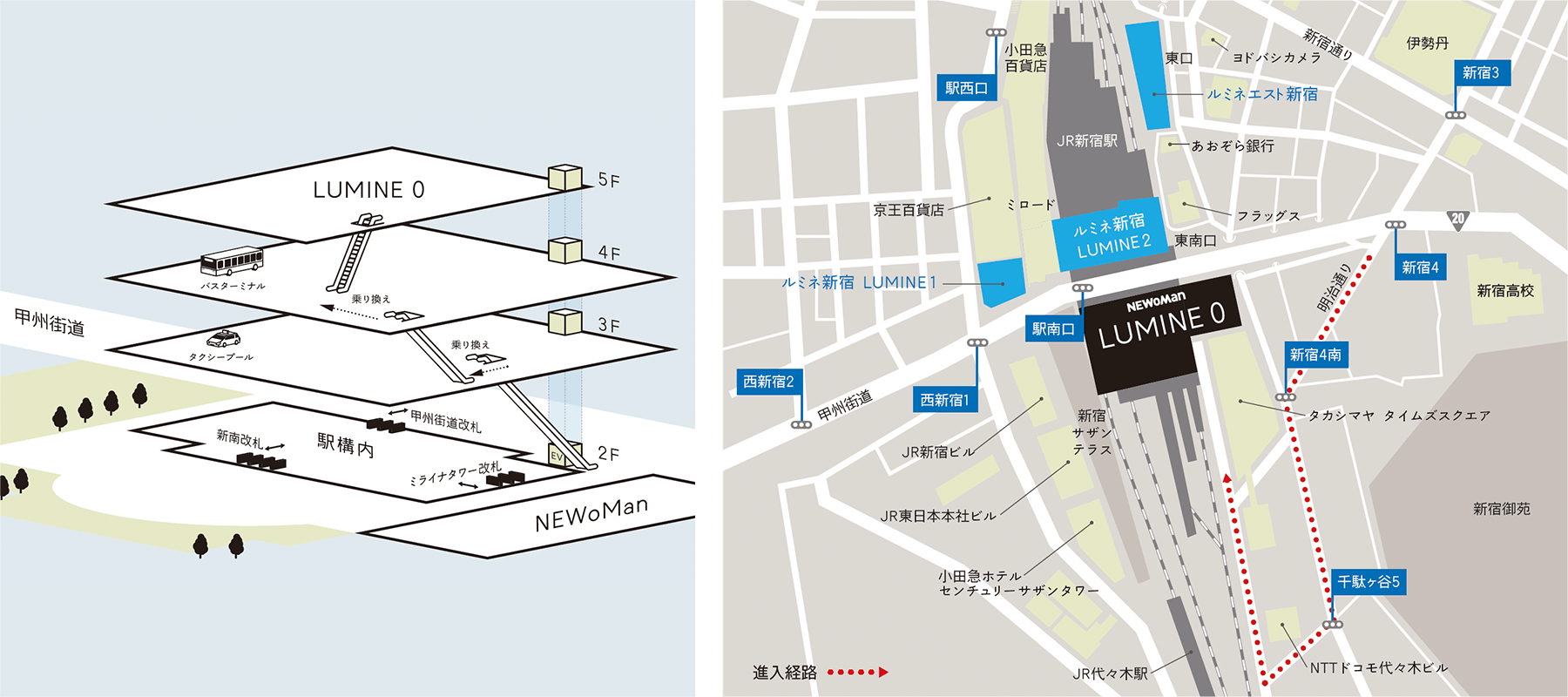 By train
Directly connected to JR Shinjuku Station New South Area. Exit Koshu-Kaido Gate and turn right. Take the elevator to the 5th floor, or take the escalator of Shinjuku Expressway Bus Terminal to the 5th floor.
By Car
Park your car at the basement parking area of JR Shinjuku Miraina Tower.
To get there, take Meiji Street to drive toward the Yoyogi area. Drive past Takashimaya Shinjuku Store on your right, and turn right at the second crossing (the Sendagaya 5-chome intersection). Drive until you reach the end of the street and turn right. Then you will soon find the entrance of the parking area.
*It is the common entrance to Takashimaya's parking lot.
TO THE MEDIA
To request an interview, please contact to the press by e-mail.(press@dialogue-japan.org)
DIALOG IN THE DARK